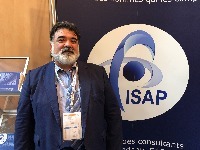 Domaines SAP
Chef de projet, Logistique, SCM
Architecte logiciel, Formation
Autres compétences
Améliorations logistiques, Expertise fonctionnelle, HANA
Secteurs d'activités
Agroalimentaire, Grande distribution, Industrie, Logistique, Retail, Transport
Aéronautique, Chimie, Cosmétique
Modules SAP
S/4 HANA, MM, SD, LE, WM, HUM, Retail
LOGISTICS & Retail CONSULTANT.
Project Manager and Management Assistance.
President Federation-ISAP.
SAP logistics functional consultant, functional integrator / architect.
S4 HANA, SD MM LE WM HUM, PM CS
Professor at CESI school, Logistics and finance course leader, full SD & MM university course at SAP France.
vincent.corrales@federation-isap.com
Phone: +33 660 83 76 98
CONSULTANT LOGISTIQUE & Retail.  
Chef de projet et Assistance Direction. 
Président Fédération-ISAP.  
Consultant fonctionnel logistique SAP, Intégrateur /architecte fonctionnel. 
S4 HANA, SD MM LE WM HUM, PM CS  
Professeur à l'école CESI, Animateur de cours logistiques et finance, cursus complet d'université SD & MM chez SAP France.
vincent.corrales@federation-isap.com
Tel : +33 660 83 76 98
Customers: France Drinks large distribution: consultant project manager SD-LE / MM / PM CS: 96-97
Holdercim 1st cement plant in the world: international consultant project SD-LE / MM / WM / PM: 97-98
Bricorama: retail consultant SD / MM: 99
Douwe Edberg France: project manager consultant MOA: SD-LE / MM / PM EDI: 99 + 03-04
Unigate France Group: international project: SD-LE / MM / WM / EDI project manager: 00-01
Pirelli Cable France Group: consultant SD / MM-WM / PP: 01
TotalFinaElf Group: project manager and consultant SD-LE / MM / IS OIL: 02
Jacquot Group: Project manager, consultant SD-LE / MM / WM-HUM / EDI: -03 to 06
Church & Dwight Group: international project in three languages: Management Assistance, and logistics consultant: SD-LE MM- / WM / PP PM / FI CO / EDI: 05-06
Turboméca SAFRAN group: ECC6 and BW Integration Manager: PP QM / PM CS / SD-LE MM WM / FI CO / PS / MRO => BW: 07 to 11
CRH Group: CP MOA: Project management: deployment of core model solution for multi Stes and multi sites: FI CO / APO PP QM / SD-LE MM-WM / EDI -SalesForce -BW 12-13
Otelo Group: Retail project manager: Retail implementation FI / CO - SD / MM WM-RF– PP - CRM: 14-15
ASN: Nokia Group: logistics consultant: LE -WM HUM RF - SD / MM - CS / PM: 15-16 + 18-21
JDE Group: Logistics Consultant / Data Migration Manager: FI / CO - SD / MM - CRM - BI -EDI: 17
Lapeyre: Retail consultant / SAP-France Audit of Front and Back office solutions: Retail: 18
Novomed Group: Logistics cosultant: Blue print: S / 4 Hana in premise full scope 18
n Missions: Project management assistance / Project management assistance:
Constitution of MOA and MOE teams, development of the 'road map' and blue print ', Animation of work meetings, Validation of the proposed functional choices. Project monitoring: budget controls, compliance with deliverables schedules (internal and external). Project manager for specifics and data conversions. Project management: kick off, deployment, Team animation, project monitoring and organization. Studies of the scope of the project, specifications, general and detailed design, animation of the technical teams. Consulting: Animation of workshops, detailed design, production of prototypes (POC) and test scenarios. Specifications for data migrations, specific developments, interfaces and EDI messages. Validation of technical files. Change management.
Start-up plan and start-up assistance ...
Training: Organization and development of end-users, key-users, consultants training plans.
Integration: Functional integrator all modules. Analysis of KPI needs and drafting of specifications, Study and review of business processes with the MOA and SAP consultants, management control assistance. Definition of data feed flows. Animation of the BW production team. Control and monitoring of reporting and dashboard deliverables. Data migration coordination.
n Details of the functional themes covered, including in the Retail world:
for SD-LE: Organizational structures including Retail management of platforms, sites and PoS. Master data for customers and hierarchies, business partners, articles and services, generic articles and variants, linked to substitutions, listing and assortments, product hierarchy, BOMs and configurable article.
Complete ADV flow, call for tenders, offers, contracts and services, MtS, MtO, MtD orders… (PP integration), deliveries, consignment, direct sale & purchase, rental, packaging, inbound and outbound transport, transport costs link with purchases & services - supplier pre-invoicing and customer re-invoicing, complaints and returns & integration of QM notices and costs on order, management of price schemes and conditions & VC, management of promotions, free and rebates, invoicing - immediate invoicing, accounting charges and credit control; FI / CO, CO-PA interfaces, correspondence processing, ATP availability control, Commercial and statistical information system. Commercial and logistics information system and implementation BW. Inter-site transfer, Inter company business. EDI: all messages & logistics forms ...
for MM / WM: Definition of structures: Divisions / sites, stores, purchasing organizations; management of articles and supplies, AIF, supplier partners and hierarchy; management of services, launch procedures, calls for tenders / bids, contracts and PL, inter-site transfers, orders, sources of supply, Collective Purchase order (IS-Retail), Distribution table, Cross Docking, Price schedule, EM / RU and invoice control; Inventory and batch management, requirements calculation (MRP), quality control advice and QM orders batches, inventories; Warehouse management, structures and WM warehouse locations with SUT HUM, stock entry and exit strategies, internal Mvts and transfers, flow of data
Clients : France Boissons grande distribution : consultant chef de projet SD-LE/MM/PM CS : 96-97 
Holdercim 1er cimenterie mondiale : projet international consultant SD-LE/MM/WM/PM : 97-98
Bricorama : consultant retail SD/MM : 99
Douwe Edberg France:chef de projet consultant MOA :  SD-LE/MM/PM EDI :99+03-04
Groupe Unigate France : projet international :chef de projet SD-LE/MM/WM /EDI : 00- 01
Groupe Pirelli Câble France : consultant SD/MM-WM/PP : 01
Groupe TotalFinaElf :chef de projet et consultant  SD-LE/MM/ IS OIL : 02
Groupe Jacquot : Chef de projet, consultant  SD-LE /MM / WM-HUM / EDI :-03 à 06
Groupe Church & Dwight : projet international trois langues :Assistance Direction, et consultant logistique : SD-LE MM-/WM/ PP PM/ FI CO / EDI : 05-06
Turboméca groupe SAFRAN : Responsable Intégration ECC6 et BW : PP QM /PM CS /SD-LE MM WM/ FI CO/PS /MRO=> BW :  07 à 11
CRH Group : CP MOA : Direction de projet : déploiement solution core modèle multi Stes et multi sites  : FI CO/ APO PP QM/ SD-LE MM-WM/ EDI -SalesForce -BW 12-13
Otelo Group : chef de projet Retail  : implémentatioin Retail FI/CO – SD/MM WM-RF– PP – CRM : 14-15
ASN : Groupe Nokia :consultant logistique : LE -WM HUM RF – SD/MM – CS/PM : 15-16 +18-21
Goupe JDE : Consultant Logistique / Responsable Data Migration : FI/CO – SD/MM – CRM – BI -EDI : 17
Lapeyre :  consultant Retail / Audit SAP-France des solutions Front et Back office : Retail : 18
Novomed Groupe : Cosultant logistique : Bleu print : S/4 Hana in premise full scope 18 
n Missions : Assistance de Direction de projet /Assistance à maîtrise d'ouvrage :
Constitution des équipes MOA et MOE, élaboration du 'road map' et du 'blue print', Animation des réunions de travail ,Validation des choix fonctionnels proposés . Suivi des projets : contrôles des budgets, du respect des plannings des délivrables (interne et externe). Chef de projet réalisations des spécifiques et conversions de données.  Maîtrise d'œuvre : kick off, déploiement, Animation d'équipe, suivi et organisation de projet. Etudes du périmètre du projet, cahier des charges, conception générale et détaillée, animations des équipes techniques.  Conseil : Animation de workshops, conception détaillée, réalisation des prototypes (POC) et des scénarios de tests. Cahier des charges pour les migrations de données, développements spécifiques, interfaces et messages EDI. Validation des dossiers techniques. Accompagnement au changement.
Plan de démarrage et Assistance au démarrage…
Formation : Organisation et élaboration des Plans de formation end-users, key-users, consultants.
Intégration : Integrateur fontionel tous modules. Analyse des besoins en KPI et rédaction des spécifications, Etude et révision des processus métiers avec la MOA et les consultants SAP, assistance au contrôle de gestion. Définition des flux de remontée de données. Animation de l'équipe de réalisation BW. Contrôle et suivi des livrables reporting et tableaux de bord. Data migration coordination.                            
n Détail des thèmes fonctionnels abordés yc dans le monde Retail :
 pour SD-LE : Structures organisationnelles yc Retail gestion des platefromeset sites et PdV . Données de base clients et hiérarchies, partenaires, articles et services, articles génériques et variantes, liés st substitutions, référencement et gammes , hiérarchie produits, nomenclatures et article configurable.
Flux ADV Complet, appel d'offres, offres, contrats et services, commandes MtS, MtO, MtD…(Intégration PP), livraisons, consignation, vente & achat direct, location, emballage, transport entrant et sortant, frais de transport lien avec les achats & services- pré-facturation fournisseur et refacturation client, réclamations et retours & intégration QM avis et couts sur ordre, gestion des schémas de prix et conditions & VC, gestion des promotions, gratuits et ristournes, facturation – facturation immédiate, imputations comptables et contrôle crédits ; interfaces FI/CO, CO-PA, traitement des correspondances, Contrôle disponibilité ATP, Système d'information commercial et statistique. Système d'information commercial et logistique et mise en œuvre BW. Transfer inter-site, Inter company business.  EDI : ensemble des messages & formulaires logistiques…
pour MM/WM : Définition des structures : Divisions/sites, magasins, organisations d'achats ; gestion des articles et approvisionnements, FIA, partenaires fournisseurs et hiérarchie; gestion des services, procédures de lancement, appels d'offres/offres, contrats et PL, transferts inter sites, commandes, sources d'appro, Collective Purchase order (IS-Retail), Table de répartitions, Cross Docking, Schéma de Prix, EM/EF et contrôle facture ; Gestion des stocks et des lots, calcul des besoins (MRP), lots de contrôle qualité avis et ordres QM, inventaires ; Gestion des entrepôts structures et emplacements magasins WM avec SUT HUM, stratégies d'entrée et de sortie des stocks, Mvts et transferts interne, flux de doc DT OT inter-module ; LIS achat et stock analyse des dépenses, interface BW, RF et convoyeur…
 pour PM/CS : Gestion des structures et données techniques, équipements- immobilisations internes ou clients, gestion des nomenclatures, postes de travail, activités & Ccoûts-intégration CO. Mise en Œuvre plans d'entretien sur les postes techniques, planification des entretiens des équipements sur compteurs, gestion des pièces de rechange et garantie. Maintenance préventive, curative, et réparations. Traitement et suivi des flux PM/CS : avis et ordres de maintenance & service (OT-OS Gamme opératoire), DIP profile pour Facturation sur charges réelles, contrats de service et location, analyse des couts. Intégration MM SD/FI CO/QM/PS. Interfaces BW 
Project Manager / Oracle financial Consultant
Chef de Projet/Consultant Oracle financial
Client: SCIC AMO Group (Caisse des Dépôts subsidiary)
Environment: AS400 / IBM38 - COBOL - GAPIII / IV - CLP
RISC6000 / SEQUENT network
- UNIX / AIX - SHELL
C - ORACLE - SQL / FORMS / PRO TOOLS C
BUSINESS OBJECT (client / server) - ETAFI
Project: Migration of the Group's rental and financial management applications
- Study, analysis and implementation of the AS400 / IBM38 migration project to
UNIX - ORACLE
- Conduct of steering meeting
- Implementation and customization of ORACLE FINANCIAL and company merger and sale tool.
- Development of migration schedules and implementation of the software package
- Follow-up of implementation deadlines, specific achievements
- Organization of training sessions
- Creation of an after-sales service and monitoring of installed companies.
Client : Groupe SCIC AMO (Filiale Caisse des Dépôts)
Environnement : AS400/IBM38 - COBOL - GAPIII/IV - CLP
Réseau de RISC6000/SEQUENT
- UNIX/AIX - SHELL
C - ORACLE - OUTILS SQL/FORMS/PRO C
BUSINESS OBJECT (client/serveur) - ETAFI
Projet : Migration des applications de gestion locative et financière du Groupe
- Etude, analyse et réalisation du projet de migration AS400/IBM38 vers
UNIX - ORACLE
- Conduite de réunion de pilotage
- Implémentation et customisation d'ORACLE FINANCIAL et d'outil de fusion et cession d'entreprise.
- Elaboration de plannings de migration et mise en place du progiciel
- Suivi des délais de mise en place, des réalisations spécifiques
- Organisation de sessions de formation
- Création d'un S.A.V et suivi des sociétés installées.
---
Client: CALBERSON INTERNATIONAL
Environment: AS400 / IBM3x - AXIAL - GAPIII - COBOL - CLP

- General, auxiliary, analytical and budgetary accounting manager
- Organization of the migration of the IBM 36 accounting application to AS400
- Preparation of specifications for consolidations of Group subsidiaries with automatic periodic feedback
- Follow-up of the realization, tests and integrations
- Monitoring of the evolutionary and corrective maintenance of applications
- Supervision of 4 Director Analysts

Client: YVES ST LAURENT
Environment: AS400 - GAPIII - CLP - MACPAC

- Analysis and realization of order processing and inventory management modules interfaced with MACPAC
- Monitoring of development and completion deadlines
Client : CALBERSON INTERNATIONAL
Environnement : AS400/IBM3x - AXIAL - GAPIII - COBOL - CLP

- Responsable comptabilité générale, auxiliaire, analytique et budgétaire
- Organisation migration de l'application comptable IBM 36 vers AS400
- Elaboration du cahier des charges des consolidations des filiales du Groupe avec remontées périodiques automatiques
- Suivi de la réalisation, tests et intégrations
- Suivi maintenance évolutive et corrective des applications
- Encadrement de 4 Analystes Réalisateurs

Client : YVES ST LAURENT
Environnement : AS400 - GAPIII - CLP - MACPAC

- Analyse et réalisation de modules de traitement des commandes et de gestion des stocks interfacés avec MACPAC
- Suivi du développement et des délais de réalisation
---
Technical, IT and Logistics Manager
Responsable Technique, Informatique et Logistique
Ste BEGEDIS
(Book publishing and distribution company)

Technical, IT and Logistics Manager
Environment: Network 6 IBM36, 1 AS400 and 20 connected microphones (7 subsidiaries)

- Definition of the IT budget
- Development of operating and accounting dashboards for the
Executive management
- Analysis and production of statistics for the Sales Department

- Maintenance of the existing and realization of new projects:
Intervention in the various fields of manufacturing, publishing,
of dissemination and distribution
- Development of specifications, techniques and users
- Relationship with Suppliers on specific projects
- Staff training

- As part of the logistics activity, organization and supervision of
Sales and Shipping Administration departments (10 people)
Ste BEGEDIS
(Sté d'édition et distribution du livre)

Responsable Technique, Informatique et Logistique
Environnement : Réseau 6 IBM36, 1 AS400 et 20 micros connectés (7 filiales)

- Définition du budget informatique
- Elaboration de tableaux de bord d'exploitation et comptables pour la
Direction Générale
- Analyse et réalisation de statistiques pour la Direction Commerciale

- Maintenance de l'existant et réalisation de nouveaux projets :
Intervention dans les différents domaines de la fabrication, de l'édition,
de la diffusion et de la distribution
- Elaboration des cahiers des charges, techniques et utilisateurs
- Relation avec les Fournisseurs sur des projets spécifiques
- Formation du personnel

- Dans le cadre de l'activité logistique, organisation et encadrement des
services Administration des Ventes et Expéditions (10 personnes)
2018 - Delta S4 HANA S4LG1 S4PR1 S4SD1
2015 - Winshuttle – Transaction / Qry / formular – WorkFlow
2013 - SAP Retail
2006 - SAP BW
2000 - SAP R3 module PS
1995 - SAP R3 modules SD-LE MM FI

1985 - Maîtrise Informatique Paris IX
1983 - DEUG Gestion et Economie appliquées à l'Informatique

Langues :
Français langue maternelle,
Espagnol Très bon niveau,
Anglais Professionnel
2018 - Delta S4 HANA S4LG1 S4PR1 S4SD1
2015 - Winshuttle – Transaction / Qry / formular – WorkFlow
2013 - SAP Retail
2006 - SAP BW
2000 - SAP R3 module PS
1995 - SAP R3 modules SD-LE MM FI

1985 - Computer Science Paris IX
1983 - DEUG Management and Economics applied to IT

Languages :
French mother language,
Spanish Very good level,
Professional English
Disponibilité
Spot, Longue durée, Temps partiel
France, Centre Ile de France, Europe, Monde Entier